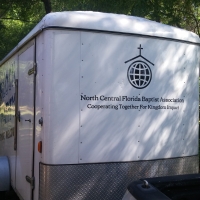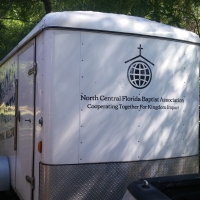 It's Here!!!
by Jeffrey Haglund | April 28, 2016
Yes, the long anticipated Evangelism Trailer has arrived and currently is parked in back of the NCFBA office. If you were unable to come to the orientation in April, we would love for you to be able to utilize the trailer and its contents to reach and connect with your community, so call and come in to be oriented. Summer is fast approaching and if you need the trailer, please contact Mary at our office with your request to reserve the trailer on your date.
Currently included in the trailer are two bounce houses, popcorn maker, snow cone maker, games, and a grill. The trailer can be used for outreach, community gatherings where you want your church to have a presence, for VBSs, or for other church events. The priorities of our Association are to foster Unity between churches, create opportunities for Kingdom Impact, and be on the Cutting Edge. This trailer can be used for each of our priorities! We are already getting many churches signed up, so call today!
See you in the Community this summer!
Jeffrey